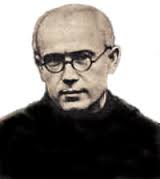 St. Maximilian Kolbe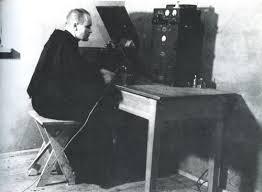 SP3RN radio shack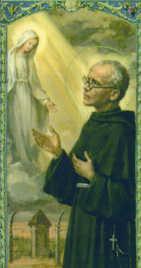 St. Maximilian founded the
Militia Immaculata
Discover St. Max "sightings"
HERE.
Saint Maximilian Kolbe Net
Net Control is K3QNT with W1HGY as alternate.
Dr. Ted Figlock - W1HGY of Taunton, MA - and Lloyd Roach - K3QNT of Bedford, PA - founded the net in 1998 to commemorate the life and martyrdom of Saint Maximilian Maria Kolbe – SP3RN.
Father Kolbe was a Franciscan Priest who founded Niepokalanow (City of Mary), a large monastery in Poland dedicated to communications. Fr. Kolbe and his Franciscan brothers published dozens of weekly and monthly periodicals to promote the Roman Catholic faith and devotion to the Blessed Mother in particular. At one point in the late 1930s, circulation exceeded one million copies monthly, making Niepokalanow the largest publisher in Poland.
Fr. Kolbe was a Ph.D. level philosopher and an insightful theologian. In addition to his print operations, he built a religious short-wave radio station in 1938 with the call sign of SP3RN. Unfortunately, his plans to extend his amateur radio operations to his monastery in Nagasaki, Japan were not consummated.
On 26 May 1941 Fr. Kolbe's monastery was shut down by the Nazi SS. Fr. Kolbe was arrested and sent to Auschwitz concentration camp, where he was assigned Prisoner #16670. In July of 1941, ten prisoners were condemned to death because of an escape attempt from the camp. Among the condemned was Francizek Gajowniczek, a Polish Sergeant. Kolbe stepped out of line and offered his life in place of Gajowniczek's. The Nazi commandant accepted the exchange and sent Kolbe to a camp starvation bunker where he was deprived of food and water for nearly two weeks. Maximilian Kolbe died on 14 August 1941, hence our operating frequency of 3814 khz.
Maximilian Kolbe was canonized by Pope John Paul II on 10 October 1982. He is considered the patron saint of the addicted and of amateur radio operators. The National Shrine of Saint Maximilian Kolbe (http://www.marytown.com) is located in Libertyville, IL, in suburban Chicago. Among the many sites with more information are niepokalanow.eu and MissionImmaculata.com
Click here for some great history and pictures of the original SP3RN at Niepokalanow, Poland from 1938.
Another interesting read is "The Catholic Holocaust in Nagasaki" about Maximilian Kolbe's Monastery Mugenzai No Sono "Garden of Mary" found at catholicculture.org
You may be interested in a movie about St. Maximilian: "Max and Me"
To learn more, join us every Sunday, either at 2400Z on 3814 KHz, or at 2200Z on 14341 KHz.
To learn more about the Saint Maximilian Kolbe Net, contact Lloyd B. Roach, K3QNT - Net Control -120 W. Watson Street - Bedford, PA 15522 USA 1.814.623.1688 k3qnt@aol.com
______________________
To share the good news of this net with your parish, HERE is a suggested insert for parish bulletins. (To adapt this for your parish, open with Word or other document editor.)
______________________
On 12 October 2017, Several members of the Saint Maximilian Kolbe Net visited Our Lady of Czestochowa Shrine in Doylestown, PA (suburban Philadelphia). We gathered for dinner on Wednesday night and on Thursday, 12 October, we were escorted by Father Jozef Olczak, a Pauline Father, for a complete tour of the shrine. We attended Mass at 11:30 AM in what was reported to be a replica of the actual sanctuary of the church in Czestochowa, Poland.
After lunch, we enjoyed a guided tour of Holy Spirit Radio WISP-AM, Catholic Radio for Philadelphia, 5,000 watts on 1570 AM and WCOJ-1420-AM 5,000 watts for the western suburbs. The group toured the studios, transmitter room and antenna array. It was a terrific opportunity to put faces on our radio friends. As Bill, K3RMW put it, "We saw friends we'd never met!"
Those who attended: Marty KK4RF & XYL Chatte, Mike W1MCT, Bill K3RMW, Bill W1WH and XYL Jane, Ted W1HGY & XYL Maryellen & Lloyd K3QNT & XYL Jacquie.
Big thanks to Dale & Jane Meier & son-in-law Frank of Holy Spirit Radio WISP & WCOJ for the excellent tour.